Las Vegas Changes the Game on Tech for Events
From apps to chatbots to completely redesigned meeting spaces, technology is revolutionizing how events are planned, executed and experienced. It's now at the core of most successful events and, ultimately, is instrumental in helping attendees forge meaningful connections and gain insight.
The opportunities to create truly impactful experiences will only increase with the rise of "all-in-one" tech tools and the introduction of 5G internet.
Las Vegas already is on the cutting edge of technology when it comes to hospitality and events. Guests in the city are accustomed to using apps for checking in and out and unlocking their hotel room doors, as well as ordering room service and getting the lighting just right from in-room tablets.
The same commitment to innovation shines in the meeting space, where venues work with their in-house teams and tech partners in every aspect of event management to come up with innovative and meaningful solutions.
At the recent International Association of Exhibitions and Events' Expo! Expo! that took place at the Mandalay Bay Resort and Casino, radio frequency identification (RFID) badging worked as a lead-generating system and also tracked real-time analytics, such as participation in sessions and the heat map of activity on the show floor, thus impacting the design of the future events.
During Amazon Web Services (AWS) re:Invent 2019 conference, held at multiple venues around the city, attendees could use the event's app to build their schedule and reserve seats, explore event venues and post instant reviews of workshops. It also allowed the show to push out real-time information on speakers and sessions and helped to match attendees using relevance algorithms.
At the August 2019 MAGIC trade show that took place at the Las Vegas Convention Center, attendees registered through the event app and utilized the generated QR code to receive an RFID bracelet, eliminating traditional badges. Along with wayfinding and matchmaking, the app became the cornerstone of the show's year-round engagement strategy.
Some of the unique infrastructure and software offerings that help planners be superheroes include:
Park MGM Ideation Studio. One of the newest additions to the Las Vegas "meeting scene," this 7,000-square-foot space offers Cisco Webex boards and Cisco Webex teams, blending real and virtual meeting space for collaborating, video calling, whiteboarding and sharing files and presentations. The space can recognize a person's device as they enter their designated room and allows them to join a secure meeting space without passwords. During the meeting, the system captures the team's notes and streamlines secure workflow.
The Venetian Meeting VR Planner. This web-based tool lets planners explore the company's 2.25 million square feet of meeting space; design and customize events; and then explore them through 3D renderings and augmented reality.
Setup for Live Shots at ARIA. The 300,000-square-foot convention space features over 7,500 strands of fiber-optic cable alone, making it simple for TV networks to broadcast live for high-profile events. It's a perfect fit with HD video conferencing capabilities and concert-quality sound systems in the ballrooms.
Onscreen Action at Hyper Esports Arena. This 30,000-square-foot esports venue inside the Luxor Hotel & Casino is perfect for immersive events that blend virtual and physical with its 50-foot LED wall, telescoping seating, PC and console gaming stations, and a network TV-quality production studio. There's also a vintage video game cocktail bar with a gamer-inspired menu.
MEET Las Vegas Virtual Tour. This 40,000-square-foot downtown Las Vegas venue allows you to visualize the three stories of space with a comprehensive virtual tour. It also employs such high-tech elements as customizable Martin Cyclo lighting and wireless managers for secure access and authentication.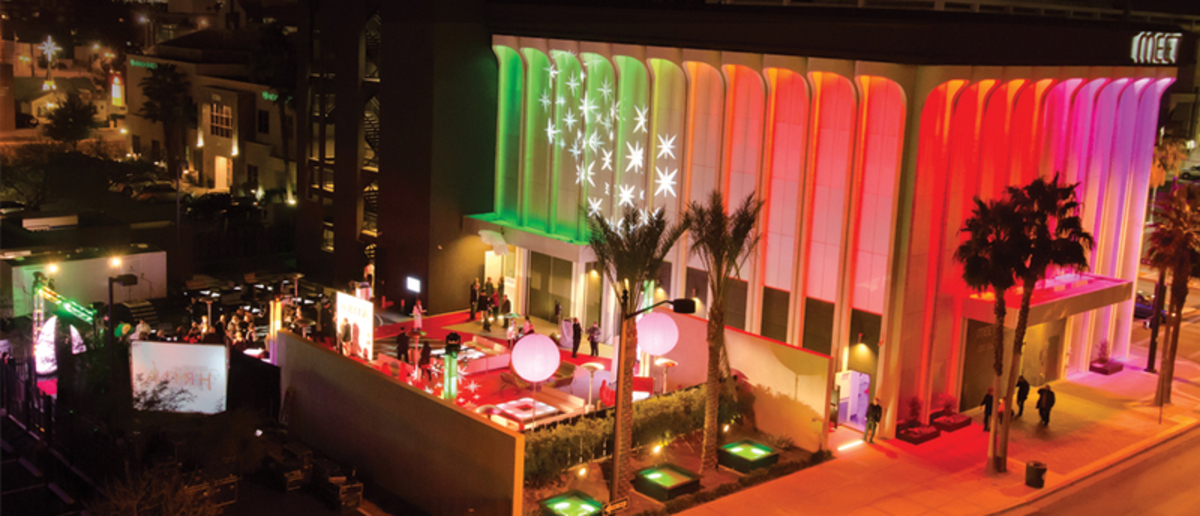 WeChat "Smart Event Smart Travel" campaign. The Las Vegas Convention and Visitors Authority recently partnered with Tencent, a Chinese gaming company, on a campaign that is aimed at attracting more Chinese visitors and enhancing business traveler experiences through innovative uses of WeChat, China's largest social media platform owned by Tencent.
Chat with Lili on VegasMeansBusiness.com Artificial intelligence is revolutionizing customer service. At VegasMeansBusiness.com, visitors can engage with Lili, an AI-powered chatbot, who can answer questions for event planners, exhibitors, attendees and tourists.
Las Vegas is constantly raising the standards on how technology is enhancing attendee experience, and soon even getting around the Las Vegas Convention Center will be a high-tech endeavor. Elon Musk's The Boring Company is drilling a 40 ft. underground tunnel for an underground people mover, the first commercial project for the company, that will shuttle high-occupancy, autonomous electric vehicles at 45 mph between exhibit halls. It is bound to be a highlight at its inaugural trade show, CES 2021.